Post originally appeared on Wildfire Radio Sports
July 17, 2019
Image: The Australian
http://www.wildfireradiosports.com/index.php/2019/07/17/ben-simmons-prioritizing-leadership-skills-right-move-sixers/
Ben Simmons prioritizing leadership skills was the right move for the Sixers
July 17, 2019 Jessica Towne Basketball, NBA, Sixers 0
Yesterday, Bleacher Report released an article titled "Maxed Out". The article discusses the different players given max amounts of money this summer through free agency and extensions. It talks about teams in secondary markets feeling the need to overpay for players who don't "deserve" the money. They mention guys like Khris Middleton who isn't thought of as a max player, but got a large contract to keep the team in championship contention, and because Milwaukee isn't considered a sought after destination. The article also suggests that those contracts then dictate the way fans and teammates look at the role that a max player should take on. Max players should be dominant in every aspect on the floor but ALSO exhibit supreme leadership skills.
There is a quote in the article from a former player now front office executive that says a max player is ideally "a leader in the locker room and on the floor. [Someone] I'm confident and comfortable giving the ball in late-game situations. He's leading my organization on and off the court where we need to go." In the long run, and ideally after this season, that description will match Ben Simmons.
Ben Simmons pointed out that he improved his leadership skills
After the end of their NBA season, the Sixers players met with the media for closing pressers. When Ben Simmons was asked about his improvements this season, he mentioned his leadership skills as something that improved. Many fans scratched their heads, mainly because of the anger toward his lack of shooting. However, using this Bleacher Report article as perspective, that might have been the best move for the Sixers.
The Sixers WANTED Simmons to focus on leadership skills in his sophomore season
Brett Brown has discussed the importance of the point guard position. He wants Simmons "owning the gym". As the coach, he wants Ben Simmons feeling the ebb and flow of the game, sometimes attacking the basket, but also feeling when Joel Embiid needs the ball, and seeing the rest of the floor and making high IQ decisions. In November, Brown said that "[he] see[s] the greatest area of improvement in that mentality, in that leadership, in the acceptance of that role."

More Brett Brown speaking about Ben Simmons' growth pre game. Talk about leadership has been a constant theme in the build up.196:37 PM – Oct 16, 2018See Ben Mallis's other TweetsTwitter Ads info and privacy
After the season, we were reminded of that. Brown reiterated that shooting jump shots etc. were not the focus of Simmons's sophomore season. Growing as a leader, however, was a goal.
Now he's focusing in on shooting
In preparation for the upcoming season, Simmons has spent all of his energy focusing on his shooting. He's posted about it on social media, Tobias Harris has praised him, and so has Elton Brand.
Brian Michael Jacobs@BrianMikeJacobs
Multiple people around the 76ers have told me that Ben Simmons has indeed made shooting his primary focus this offseason. His decision to not play for Australia was mutual, and not a Sixers-issued ultimatum. He has been focused on repetition and practice.7367:33 PM – Jul 16, 2019Twitter Ads info and privacy136 people are talking about this
Based on his leadership skills, he is the exact kind of player that deserves max money
Losing Jimmy Butler requires someone to step up as the leader on the floor. Ben Simmons will be that guy. He sees the floor better than anyone, and always looks to make the best play. He can be dominant on both ends of the floor. The Sixers are a better team with him on the court.
After growing as a leader, adding in the shooting is the last piece of the puzzle.View image on Twitter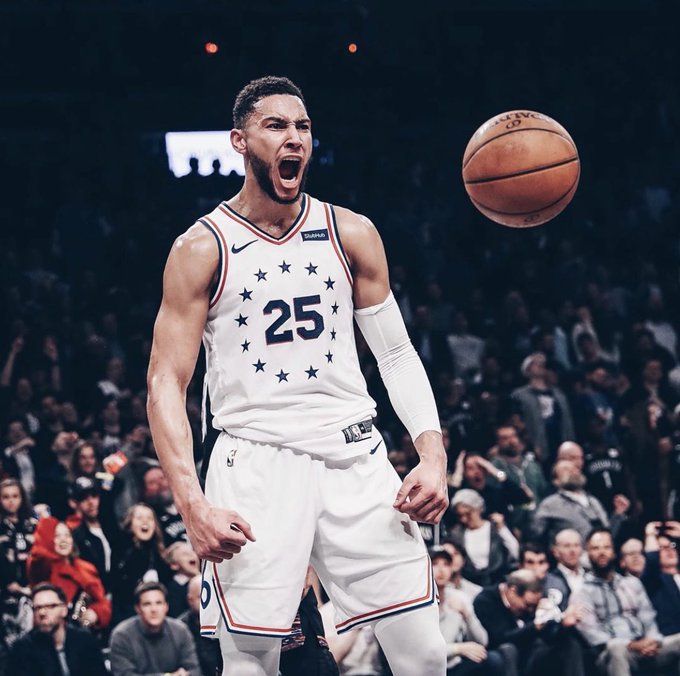 Officially official. #RunItBack PHILLY 37.2K2:14 PM – Jul 16, 20196,199 people are talking about thisTwitter Ads info and privacy
Ben Simmons is a true max player – unlike others in the NBA
The most important aspect of a max level player is their leadership skills. Guys that have large contracts in the NBA without having those skills include Mike Conley, Gordon Hayward, Kyrie Irving, Khris Middleton, and yes, even Tobias Harris.
The Sixers knew Jimmy Butler wouldn't stay, so they put an emphasis on Simmons growing in that category. With his high level of success in other aspects of the game, ensuring he can have success as a leader was the last checkbox for the Sixers to make sure he was worth a max-level extension.
The article by Bleacher Report provides a unique perspective on today's NBA. It's absolutely accurate. Small-market teams need to overpay sometimes for a 4th or 5th best player on a team, which can throw off a dynamic for the hierarchy of a team. With Ben Simmons, it's right where it needs to be.
Featured Image: The Australian