Post originally appeared on Wildfire Radio Sports
July 9, 2019
Does Kawhi Leonard joining the Clippers create a balanced NBA?
Image: WITN
Does Kawhi Leonard joining the Clippers create a balanced NBA?
July 9, 2019 Jessica Towne Basketball, NBA, Sixers 0
2:30 AM ET, the Kawhi Leonard decision happened. Rumors swirled that the Clippers were early favorites for Leonard, but as time went on it appeared the Lakers and Raptors had a legitimate shot at the current finals MVP. Additionally, the Oklahoma City Thunder agreed to trade one of their superstars in Paul George to the Clips. With the completion of these two moves, is the NBA balanced again for the first time in the last few years?
Free agent forward Kawhi Leonard has informed runners-up teams of his plans: He's signing with the Clippers, league sources tell ESPN.121K1:54 AM – Jul 6, 2019Twitter Ads info and privacy58.2K people are talking about this
Is the NBA Balanced? A recap of the Western Conference:
With the loss of Kevin Durant and the injury to Klay Thompson, the Warriors are in their most vulnerable position of the last five years. Because of that, with the addition of the high-level free agent market, the west is shaken up but extremely strong. The Warriors will still be a contender, just not in a dynastic way like before.
While they lost Kevin Durant, they were smart enough to work out a sign-and-trade with the Nets, getting D'Angelo Russell in return. Although they don't have long term plans for keeping DLo, he can be an asset up to the trade deadline when Thompson will presumably be close to returning from his ACL injury. Unfortunately, some cap room needed clearing for this to work, so Andre Iguodala was a cap casualty. The Warriors traded Iggy to the Memphis Grizzlies.
To fill some holes left, the Warriors traded for Omari Spellman, while also signing Willie Cauley-Stein. They also drafted two highly regarded players in Jordan Poole and Eric Paschall. Poole will give you the scoring, while Paschall can give you just about everything else on the floor.
Teams trending downward
While several teams made moves to improve their roster, there are a few teams that might have gotten worse throughout this free agency season. Those teams include the Rockets, Thunder, Timberwolves, and the Grizzlies.
The rumors surrounding the Rockets are no surprise. James Harden's style of basketball isn't sustainable for winning, and a ball-dominant guard in Chris Paul won't have the ball in his hands playing with James Harden. Additionally, the front office placed half the team on the trade block but got no takers. That can't go over well with those players.

James Harden and Chris Paul with a passionate discussion on the sidelines 1601:02 PM – May 5, 201872 people are talking about thisTwitter Ads info and privacy
The Thunder gave up one of their superstars in return for several picks. They also traded away Jerami Grant and are looking to trade Russell Westbrook. Chances are, if they're able to dump Russ, they won't make playoffs this year.
"Russell Westbrook is the best and most important player in the history of the Thunder franchise. They owe it to Russ to move him to a destination of his choosing because he has been so good to that franchise and kept that franchise afloat." — @getnickwright1,5507:10 AM – Jul 9, 2019342 people are talking about thisTwitter Ads info and privacy
The Timberwolves are a mess. They want to trade Andrew Wiggins, but no one wants that problem. They got Shabazz Napier and Treveon Graham in a trade with the Warriors and signed Jordan Bell. Other than that, not really an improvement.
Lastly, the Grizzlies got a good one in Ja Morant, however, beyond that, they still have work to do. They were able to nab Josh Jackson as well as another good young piece. Other than these few, however, the rest of the West has made some serious moves for an extremely balanced NBA.
A strong point guard for the Utah Jazz
It was made known that resigning Ricky Rubio was not a priority for the Utah Jazz going into free agency. As a replacement, they traded Grayson Allen, Jae Crowder, and Kyle Korver and some picks to the Grizzlies in return for Mike Conley. Conley gives them much better scoring and ball handling than Ricky Rubio. Ultimately it will also provide better offensive opportunities for Donovan Mitchell as well.
They also successfully added Bojan Bogdanovic, Ed Davis, and Jeff Green to their roster as well. Oh and don't forget they have the back to back defensive player of the year in Rudy Gobert. The Jazz might be one of the best teams in the Western Conference next season.View image on Twitter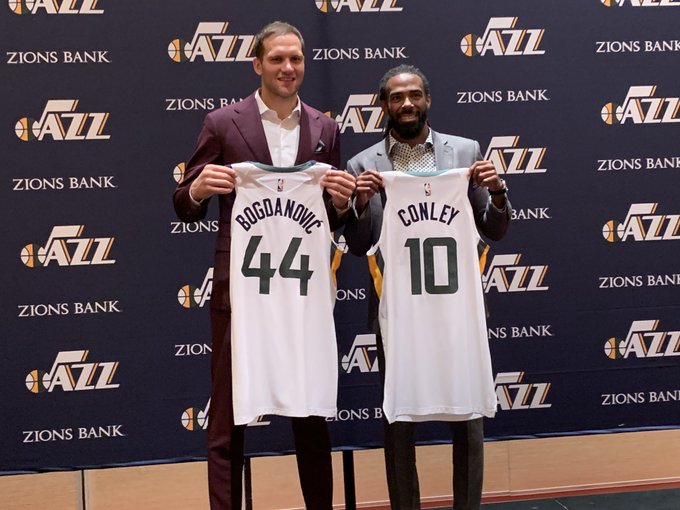 First look at Mike Conley and Bojan Bogdanovic in their new Jazz jerseys.8812:24 PM – Jul 8, 201964 people are talking about thisTwitter Ads info and privacy
The Lakers miss on Kawhi but land some pieces
The Anthony Davis trade was supposed to be just the first step in the Lakers summer. However, they ultimately struck out on the biggest prize. They moved all of their young assets but one to acquire AD and to make room for Kawhi. If the Lakers were able to sign Leonard, the NBA would have its super-team of the next few years. However, without him, the Lakers are just another team with a few good pieces, keeping the NBA balanced.
They added Danny Green, Jared Dudley, Quinn Cook, and DeMarcus Cousins. They also resigned Rajon Rondo, Alex Caruso, Kentavious Caldwell-Pope, and JaVale McGee.
This could either work really well or be a complete dumpster fire. Only time will tell.
The Blazers hope to contend for another year
After a successful year, finally winning a playoff series, the Blazers are looking to build on that success this season. They locked up their sharpshooting star through the 2023-2024 season with a player option for 2024-25. They also kept Rodney Hood after his impressive play throughout the 2019 post season. The Blazers also signed Mario Hezonja to contend with the other power forwards in the western conference. With sharpshooters like CJ McCollum and Dame Lillard, they need defense added to their roster. Hezonja has the ability to defend guards and forwards, keeping the Blazers a threat in the western conference.
The Sacramento Kings could be sneaky good
With a new head coach and a good young core, the Kings are looking to make a push in the competitive West. Under Luke Walton, De'Aaron Fox, Marvin Bagley III, Buddy Hield and Harry Giles are looking to take the next step forward in their NBA careers. After signing Harrison Barnes and Trevor Ariza the Kings have added a veteran presence and some really good shooting as well. Additionally, they signed Dewayne Dedmon (who I wanted the Sixers to snag) to a 3-year deal. This young team plays extremely fast and can make undisciplined defenses pay in transition. Their young core will only continue to improve and they Kings have a chance to contend for a playoff spot in the West this season.
Free agent F Harrison Barnes has agreed to a four-year, $85M deal to stay with the Sacramento Kings, Excel Sports agent Jeff Schwartz tells ESPN.18.7K6:01 PM – Jun 30, 2019Twitter Ads info and privacy5,466 people are talking about this
Free agent Trevor Ariza has agreed to a two-year, $25M deal with the Sacramento Kings, league sources tell @TheAthleticNBA @Stadium.7,8016:14 PM – Jun 30, 2019Twitter Ads info and privacy3,300 people are talking about this
Will the balanced NBA allow the Mavs to have a breakout year?
The Dallas Mavericks are looking to make a splash in the newly balanced NBA. So far this offseason, they've given a 5-year max extension to Kristaps Porzingis who they hope will flawlessly return from a torn ACL. Additionally, they signed Boban Marjanovic to back him up. They looked to get some more shooting by adding Seth Curry. Obviously, the success of the Mav's season is contingent on Rookie of the Year, Luka Doncic taking steps forward in his NBA career. Mark Cuban and the front office have worked to place players around Doncic to help him thrive. If these pieces can work, the Mavericks could be a team to watch in the West.
The Denver Nuggets target consistency
One of the best teams in the Western Conference last season was the Nuggets. Behind Nikola Jokic's sensational season, veteran leadership from Paul Millsap, and offensive explosiveness from Jamal Murray, the Nuggets wreaked a little bit of havoc in the west. Their strategy for this offseason? Running it back. Millsap exercised his option, the Nuggets maxed out Jamal Murray, oh and let's not forget they're hoping to get Michael Porter Jr. out there this season.
They secured Bol Bol in the draft and got Jerami Grant in a trade from the Thunder to give them a few new faces. But ultimately, this team could shoot for that #1 seed this season.
Asked Coach Malone what excites him most about #Nuggets acquiring Jerami Grant:

"Nikola Jokic is our best player. So everyone that comes in, has to compliment Nikolai. I think Jerami is a guy that will play well with and off of Nikola Jokic."1545:47 PM – Jul 8, 201923 people are talking about thisTwitter Ads info and privacy
A good young team in New Orleans
It was no secret Anthony Davis would be moved before the season. The question was how much the Pels could secure in return for the Brow. In addition to winning the lottery and obtaining the #1 pick in the draft, they nabbed Josh Hart, Brandon Ingram, and Lonzo Ball away from the Lakers. Pairing those few guys with Zion gives the Pelicans a really interesting and talented young core, all lead by Jrue Holiday. Additionally, the Pelicans still worked their magic in free agency, signing JJ Redick away from the Sixers on a 2-year $26.5M deal. Jahlil Okafor also exercised his player option for this season.View image on Twitter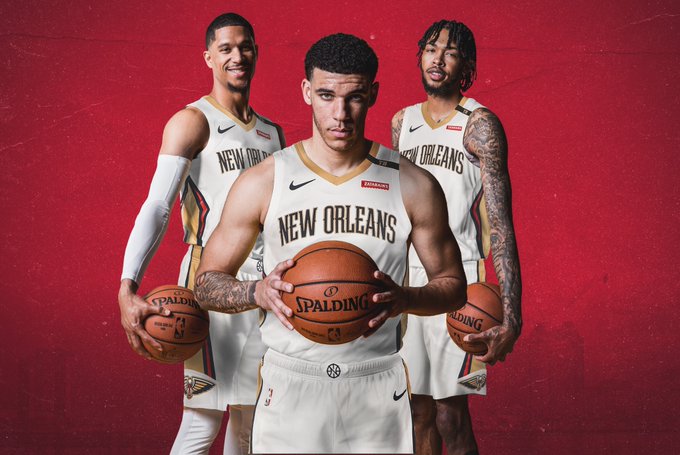 New Orleans Pelicans✔@PelicansNBA33K11:30 AM – Jul 9, 20195,730 people are talking about thisTwitter Ads info and privacy
Although New Orleans was presumably about to rebuild upon losing AD, they worked enough magic to potentially earn them a low seed in the Western Conference.
The free agency decision we were all waiting for
As NBA fans, we thought that the Kawhi Leonard decision would be exciting. However, I don't think any of us really thought it would be this crazy. It was completely typical of Leonard to make his decision in the middle of the night, but to add Paul George being traded on top of it? Wow.
OKC got 7 first round picks from 2021-2026 in addition to Danilo Gallinari and Shai Gilgeous-Alexander.
Additionally, through free agency, the Clippers resigned Patrick Beverly, extended Ivica Zubac, signed JaMychal Green, and got Maurice Harkless in a multi-team trade.
How will the Western Conference shape up after this whirlwind offseason?
Of those teams just talked about making moves and shaping up to be nice teams, there will be at least one left out. There will possibly be two because, while the Spurs didn't make any super splashy moves, they still have arguably the best coach in NBA history leading the way.
The best part about this offseason is the way it finally balanced out the western conference. It really is open for the taking now. If Kawhi would have chosen the Lakers, it would have created another ridiculous super team that looked unbeatable. Now, there is a good amount of balance that will make the season extremely fun.
Here is my prediction for how the Western Conference will be seeded:
Jazz
Clippers
Nuggets
Lakers
Warriors
Rockets
Trail Blazers
Spurs
The 8 seed I believe is more open-ended. There is the possibility for the Mavs or Kings to sneak in there if given an opening.
The Eastern conference is a lot less exciting
There was some movement in the Eastern Conference, but significantly less than the West. Ultimately, it kept the balanced NBA trend, but there will be less jumbling of playoff seeding. There are a few teams that will still be at the bottom: Hornets, Wizards, Bulls, Cavs, and Knicks.
The Cavs didn't sign anyone in free agency, the Knicks signed the worst available players in free agency after not offering anything to Kevin Durant, the Hornets swapped Kemba for Terry Rozier, the Bulls have some young talent but not enough, and the Wizards are still strapped with John Wall's contract that really starts to hit this year.
Last season's number one seed will still be a contender
The Bucks will still be at the top of the pile of teams in the East. The reigning MVP will continue to improve, they brought back Brook Lopez, George Hill, and Khris Middleton, and also added Robin Lopez, Wesley Matthews, and Thanasis Antetokounmpo. Unfortunately, because of the Eric Bledsoe extension and the max contract given to Khris Middleton, the Bucks had to sacrifice their former Rookie of the Year in Malcolm Brogdon.
Although they lost a few players, the key pieces to their success last season will return, helping the Bucks stay in the conversation at the top of the Eastern Conference.
The Pacers got better and still have Victor Oladipo
The Pacers made some sneaky moves to enhance their team during the offseason. Keep in mind, they were still a playoff team WITHOUT Victor Oladipo and they played relatively well. Now, they did lose significant players like Bojan Bogdanovic, Wesley Matthews, and Thaddeus Young who were 3 of the 7 top scorers on the team last season. However, they still have players like Myles Turner and Domantas Sabonis as well as additions of Jeremy Lamb, TJ Warren, TJ McConnell, and Malcolm Brogdon.View image on Twitter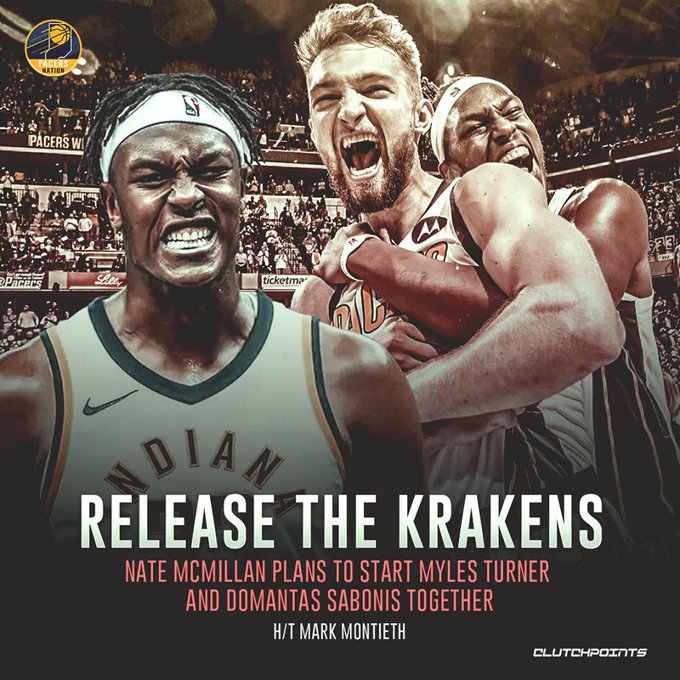 Can't wait to see Myles Turner and Domantas Sabonis dominate together under the guidance of coach Nate McMillan #pacers744:39 AM – Jul 8, 201915 people are talking about thisTwitter Ads info and privacy
The Pacers are hopeful that they can get Oladipo back around the December timeframe, and once that happens, the Pacers should be poised to make a push.
Still a balanced NBA: How good will the Nets be swapping DLo for Kyrie?
The Nets were the most talked about team at the June 30, 6:00 ET deadline. Kevin Durant announced that Brooklyn was his new home and Kyrie Irving did the same. In the process, the Nets then moved D'Angelo Russell to the Golden State Warriors. The Nets showed promise last season, however, that team is now EXTREMELY different. Aside from losing DLo, they also lost Ed Davis, Jared Dudley, Rondae Hollis-Jefferson, Allen Crabbe, and DeMarre Carroll. Obviously, you'd have to be an idiot to not prefer Kyrie and KD over that group.
They also added DeAndre Jordan, Wilson Chandler, and Theo Pinson. It will be interesting to see how well Kyrie Irving meshes with the talents and likes of Joe Harris, Caris LaVert, and Spencer Dinwiddie. If the team gels, even without KD they could go far into the playoffs.
The Heat could sneak in the back end
The Heat managed to make a move because of their beachfront draw. Miami is not a bad place to be mid-season when you've spent the rest of your career in Chicago, Minnesota, and Philadelphia. Yes, I'm talking about Jimmy Butler. Luckily for the Sixers, the only way that Butler got his Miami wish was with a sign and trade because they are so hamstrung by ridiculous contracts. Hassan Whiteside, Goran Dragic, and Kelly Olynyk were all making way too much money this year for the cap structure to work. They pulled the trigger on a trade with Philly to swap Josh Richardson for Jimmy Butler.
They traded Hassan Whiteside and got back Meyers Leonard from the Trail Blazers. Also, they are still looking for a trade partner for Goran Dragic. They had one in place with the Mavericks until the Mavs backed out at the last minute.
When it comes to playoff contention it will be interesting. Butler wants to be the guy. He wants the ball in his hands. However, with the other talent in the now balanced NBA, it will be interesting to see how far just Jimmy Butler with a supporting cast of Tyler Herro, Leonard, Dragic, and Olynyk, will go. Jimmy likes to win. And that ain't a winning team right there. And if they end up trading for Russell Westbrook that's more cash tied up, another volatile personality, and another tough person to play with. They will make playoffs because there are more bad teams in the East than the West.
Will the reigning champs return to the postseason?
The Raptors, like the Lakers, based their offseason around securing Kawhi Leonard. Unfortunately for them, that didn't happen. They signed Patrick McCaw to return and snagged Rondae Hollis-Jefferson off the free agent market. Marc Gasol opted into the last year of his contract and the Raps also still have stars in Kyle Lowry and Pascal Siakam. However, will that be enough to carry the team on another playoff run? Or was this a one and done for Finals appearances in Toronto?
Does Derrick Rose improve the Pistons?
The Pistons snuck into the playoffs this season solely because every team below them was just that bad. They finished the regular season with a 41-41 record, beating out the Hornets and Heat who each finished 39-43. Through free agency, they added a scorer in Derrick Rose and a solid forward in Markieff Morris. Pairing those two with Blake Griffin and Andre Drummond could work for a little offensive momentum.
Could the Magic or Hawks squeak into the 8th seed?
The Orlando Magic and Atlanta Hawks are both interesting cases going into this season. The Magic made the playoffs last season and were able to steal one from the Raptors before succumbing to a gentleman's sweep. They've had a relatively busy offseason, resigning Nikola Vucevic, Terrence Ross, and Michael Carter-Williams. They also signed Al-Farouq Aminu and drafted Chuma Okeke out of Auburn. They've got some good pieces down there. However, I think it's very interesting that they gave Vucevic that deal while still having Mo Bamba. Either he's not recovering well from that stress fracture that kept him out the majority of the second half of the season, or they don't have the confidence in him right away. Also, still, no one has any clue when Markelle Fultz will play basketball.
The Hawks are also an interesting team. They have A LOT of really good young players. Although they only won 29 games last year, however, they've added potential young stars in Cam Reddish, DeAndre Hunter, and Bruno Fernando. They also added veterans through trades in Evan Turner, Allen Crabbe, Chandler Parsons, and Damian Jones, and signed Jabari Parker. All of these pieces combined with Trae Young, Kevin Huerter and John Collins could be a threat. Depending on what some other teams do, they could be knocking on the door of the 8 seed in the East. Again – balanced NBA.
Where will the Celtics end up after completely striking out this offseason?
The Celtics went into the offseason with a goal of trading for AD, resigning Kyrie and keeping Al Horford. None of those things happened. They still made some moves, trading for Kemba Walker, signing Enes Kanter, and drafting Carsen Edwards. However, that might not be enough to completely replace their losses.
The Sixers are the team to beat
Kawhi going to the Clippers was the best thing for a balanced NBA. It was also the best thing for the Sixers chances at a title combined with their moves in free agency. After the draft, Elton Brand came out and said it would all make sense soon. Brand absolutely backed that statement up in a big way when free agency opened. The Sixers signed Tobias to a 5-year, $180M contract, saving that extra $10M to give Mike Scott for a 2-year deal. Additionally, they improved at the forward spot by signing one of the smartest players in the NBA in Al Horford to a 4-year deal. The Sixers also brought back James Ennis, signed Kyle O'Quinn and Raul Neto, and got Josh Richardson in the Jimmy Butler trade.

New Sixer Josh Richardson, in his first interview in Philly, on Sixers chances with Kawhi Leonard leaving the East

"Sky's the limit really. With our starting 5 and our bench…
I'm very confident in what we have"#Sixers33011:31 AM – Jul 9, 201953 people are talking about thisTwitter Ads info and privacy
A starting lineup of Ben Simmons, Josh Richardson, Tobias Harris, Al Horford, and Joel Embiid is astounding. The worst defensive player in that lineup is Harris, and he's not even a bad defender by any means. Off the bench, Matisse Thybulle and Zhaire Smith will be critical pieces as well. Defensively, this team is absolutely stacked. Offensively, the machine will work and flow much more smoothly, however, the shooting and scoring of certain players need improvement.
Ben Simmons needs to improve his shooting. There's no secret there, and I believe it will happen. Joel Embiid can learn how to be even more effective by taking some pointers from Al Horford. Tobias Harris will get into a better offensive rhythm without ball dominant Butler and JJ Redick. Horford and Richardson will give the team a good percentage of 3-point shots. Off the bench again, Thybulle and Smith have been showing serious promise in summer league play.
How will the Eastern Conference shape up in the new balanced NBA?
I think the East has less teams that could potentially make a run at a playoff spot. The Knicks, Hornets, Bulls, Cavs, and Wizards are all missing the playoffs. They don't have the pieces and they don't have the talent at this point.
Teams that could squeak in at the end for an 8 seed I think is a toss-up between the Hawks, Magic, and the Pistons all for reasons explained below. Multiple of those three could even get in depending on how the Raptors do without Kawhi, and how the Celtics do with all of their losses.
In my opinion, this is how I think the Eastern Conference seedings will shake out:
Sixers
Bucks
Nets
Pacers
Heat
Celtics
Raptors
Hawks
However, as I said, 6-8 are really up for grabs between the Celtics, Raptors, Hawks, Magic, and Pistons.
It's FINALLY a balanced NBA
Since Lebron made "the decision" and joined Dwyane Wade and Chris Bosh in South Beach, super teams have been the norm of the NBA. For the first time since then, there is a balanced NBA. This is going to be a very fun NBA season for the fans. It's anyone's title this season!
Featured Image: WITN