Post originally appeared on Pro Sports Notes
March 1, 2019
http://prosportsnotes.com/super-bowl-hero-brandon-graham/
Featured Image: Keith Allison via Flickr
Super Bowl hero Brandon Graham stays in Philadelphia
Posted on March 1, 2019
Howie Roseman keeps the Super Bowl hero
The Eagles drafted Brandon Graham in 2010, 13th overall out of Michigan. Looking back, some weren't too thrilled with the selection. As the draft continued, the Seahawks selected Earl Thomas with the 14th pick, and the Patriots took Gronk in the second round. However, BG was always consistent in his play for the Birds. He played only 16 games total in his first two years as an Eagle recording a total of 17 total tackles and three sacks. He will always be remembered as the Super Bowl hero, for his strip sack of Tom Brady. Howie Roseman somehow worked his magic to keep our Pro-Bowl defensive end.
Brandon Graham's stats since 2012
Since 2012, the Super Bowl hero has only missed one game. He recorded a total of 39.5 sacks (season high in 2017 of 9.5), 300 combined tackles, seven passes deflected, and 15 regular season forced fumbles. Not a bad career thus far. However, when Chip Kelly gave him the 4-year $26M extension in 2015, fans weren't totally sold. Up until that point, he hadn't really delivered in a big way for a first round pick. Apparently, his best was yet to come.
How we ended up keeping BG to this point
When Kelly was tossed, and Doug Pederson and Jim Schwartz came in, the Eagles went back to a 4-3 defense instead of the Kelly system's 3-4. In this system, Graham thrives coming off the edge, constantly putting pressure on the quarterback. Whether it shows up in the stats or not, BG is always in the backfield putting pressure on opposing offenses.
He had his best season in 2017 at 29 years old. He recorded 9.5 regular season sacks, and perhaps the most important one of his career in the playoffs.
Why he will always be the Super Bowl hero
Graham had a quiet playoff run. As I mentioned before, he wasn't filling up the stat sheet, but he made his presence known. The Patriots offensive line did a good job keeping Tom Brady clean. But in crunch time, BG handled business. In the waning minutes of Super Bowl LII, it looked like the movie we've all seen 1,000 times before. Brady would run a two-minute drill, eat up the clock, but drive down for a game-winning TD. BG had other ideas.
Every Eagles fan was hoping and praying harder than ever before for just something to go our way. Graham, the labeled "bust" of a first-round pick, came off the edge, and hit Brady, knocking the ball out of his hands and into the belly of Derek Barnett. At that moment, BG became one of the most beloved athletes in all of Philadelphia, and will forever be known as the Super Bowl hero.
The new contract
It didn't look likely that Graham would stay. There were teams like the 49ers that would give him that high-grade money that he seemed to want. Honestly, he deserves it at this point. The Eagles simply just couldn't afford what we THOUGHT he wanted. It also seemed like he wouldn't necessarily be willing to take a hometown discount. However, the Eagles GM did it again, keeping the Super Bowl hero in green.
The Eagles extended Brandon Graham for the next three years, keeping him through the 2021 season. According to Ian Rapoport, the deal is three years, $40 million, valuing somewhere between $12 and $14 million per year.

Hopefully, this means that he will finish his career with the Eagles. Congratulations to our Super Bowl hero on his new deal, and let's thank our lucky stars for Roseman!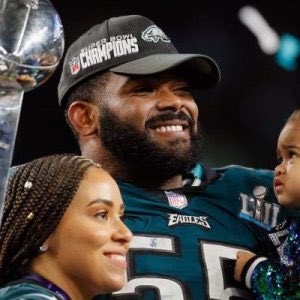 Stats via NFL.com
Featured Image: Keith Allison via Flickr