Post originally appeared on Pro Sports Notes
February 20, 2019
Mel Kiper picks a CB for the Eagles in round one of the NFL Draft
Featured Image: TigerNet.com via Flickr
Mel Kiper picks a CB for the Eagles in round one of the NFL Draft
Posted on February 20, 2019
ESPN holds a conference call for Mel Kiper to discuss his mock draft
On Tuesday, February 19, Mel Kiper and ESPN hosted a conference call, allowing ESPN Draft Analyst Kiper to answer questions regarding his first mock draft for this offseason. There are several interesting prospects in this year's draft at all positions. The Eagles have a few different needs this year including a defensive end, an offensive lineman, and a running back.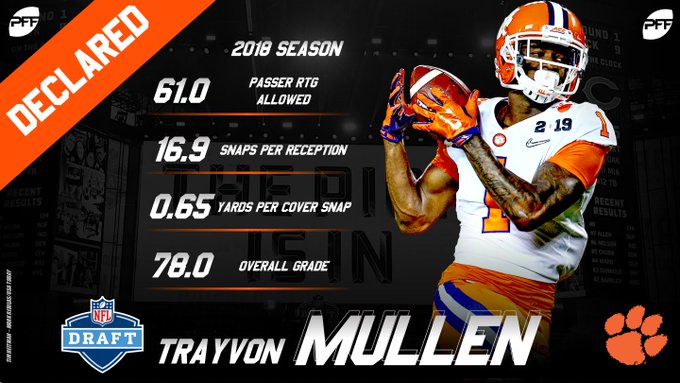 Which they will draft we'll have to wait and see. However, Kiper thinks that the Eagles will take a corner with their first pick in the draft.
The Eagles picks in the 2019 NFL Draft
The Eagles have their first pick at #25 after finishing the season 9-7 and losing in the divisional round of the playoffs. They also have two second-round picks, a 4th round and a projected 4th round, a 5th round, a 6th round, and two extra projected 6th round picks.
Personally, I would love to see the Eagles take an actual need with their first-round pick instead of a "nice to have" player. I'll explain what I mean.
Mel Kiper giving his opinion
Kiper, as I mentioned before, predicts the Eagles will take a corner with their first-round pick. He has Trayvon Mullen going to the Birds. When asked about this prediction on the call, he explained that in this NFL, "you can never have enough coverage." He said it's a corner driven league and you need four or five to be successful in coverage. When describing Mullen, he noted that he has the coverage ability and pass breakup ability that forces offenses to avoid his side of the field. At 6'2″ and 186, he's a big corner that can get the job done.
Obviously, the Eagles had some injuries that really hurt our defensive secondary in 2018. While I think the Eagles need another corner at some point, I don't think they should use their first-rounder. Between Jalen Mills, Sidney Jones, Avonte Maddox, Cre'Von LeBlanc, Rasul Douglas and another later round guy, the Eagles will make it work. They got a steal in a late round with Maddox last year. There's no reason to take Mullen and not address a more pressing need.
Some other interesting prospects for Kiper
Kiper also mentioned that if the Eagles don't go with Mullen, there are two wide receivers that are interesting. AJ Brown from Ole Miss and Preston Williams from Colorado State are guys that Mel Kiper said he saw the Eagles being interested in.
What will the Birds do?
The Eagles have an interesting offseason ahead of them, and that is no secret. Many Eagles fans felt like the team got a well-deserved pass this year because they won the Super Bowl. The 2019 season will be infinitely different when it comes to standards and expectations. It was extremely lucky the team had the turnaround they did during the month of December and were able to win a playoff game. However, a deep playoff run is expected from the team this year.
There is a lot of uncertainty right now surrounding the offensive and defensive lines for this season. You have guys like Brandon Brooks and Derek Barnett coming off of injuries. Guys like Brandon Graham will most likely be wearing a different uniform. Jason Kelce, Jason Peters, and Chris Long might retire. Then there are guys with huge cap hits like Michael Bennett and Tim Jernigan. Right now, the only players that are solid locks for 2019 on either line are Lane Johnson and Fletcher Cox. Personally, I'd like to see these needs addressed in the early rounds.
What do you think the Birds will do?
Featured Image: TigerNet.com via Flickr