Post originally appeared on Pro Sports Notes
April 5, 2019
20 days until the draft, a recap of the Eagles offseason thus far
Featured Image: alexus selman via Flickr
20 days until the draft, a recap of the Eagles offseason thus far
Posted on April 5, 2019
Recapping the Eagles offseason
The Eagles offseason was a busy one to say the least. After a slightly disappointing 2018 bid, the team is looking to get back to the big game in the 2019-2020 season. There have been several free agent signings as well as trades on the list of Eagles transactions. Before we go into the offseason, let's remember which Eagles from last year were free agents going into this offseason.
Eagles 2019 free agents
Golden Tate
Chance Warmack
Mike Wallace
Darren Sproles
Richard Rodgers
Jordan Matthews
Jay Ajayi
Rick Lovato
Nate Sudfeld
Jake Elliot
Brandon Graham
Haloti Ngata
Chris Maragos
Corey Graham
Ronald Darby
Paul Worrilow
LaRoy Reynolds
Jordan Hicks
DJ Alexander
Where have those guys gone?
So far here is what we know about guys that are no longer with the Eagles from that list:
Golden Tate first said it's not about the money, it's about trying to get another ring, then signed a ridiculous contract with the Giants of all people. K Golden, whatever you say bro.
Jordan Matthews signed a with the 49ers, which is only fitting because he is a cousin of Jerry Rice
Jordan Hicks announced he would test free agency, and it did not take him long to find a new home with the Arizona Cardinals
The guys that Howie Roseman managed to keep through the Eagles offseason on the offensive side of the ball
Richard Rodgers
Signing Rodgers was one of the first moves of the Eagles offseason in 2018. After releasing Brent Celek and losing Trey Burton in free agency, the Eagles had two tight end positions to fill. It was widely known that one of those would be through the draft. Unfortunately, Rodgers missed the majority of this season with a knee injury.
The Eagles are bringing Rodgers back on a two-year contract. This way he will be the 3rd tight-end on the roster, so the Eagles can actually use the 3 tight-end sets they've talked about. If Rodgers can stay healthy, it's a good cheap move for the Birds.
Rick Lovato, Jake Elliott, Nate Sudfeld
It wasn't really a surprise that the Eagles took care of these guys' contracts early and quickly. Sudfeld was a restricted free agent, so his was easy. Lovato and Elliott are both special teamers who the team has no complaints about, so giving them each one-year deals made the most sense.
Who's still here on the defensive side
Brandon Graham
Many Eagles fans, including myself, thought we saw BG's last game in an Eagles uniform. I think Graham also thought that himself. However, by some work of magic, Roseman was able to keep Graham on the roster with a 3-year contract extension. This added another sure thing on the defensive line that took some hits this offseason.
BRANDON GRAHAM WILL NEVER HAVE TO BUY ANOTHER MEAL IN PHILLY THE REST OF HIS LIFE pic.twitter.com/hpiJObZdc2— Barstool Sports (@barstooltweetss) February 5, 2018
Haloti Ngata
As many thought he would, Ngata made the decision to retire from the NFL this year. He did so in the most awesome way possible, on top of Mount Kilimanjaro.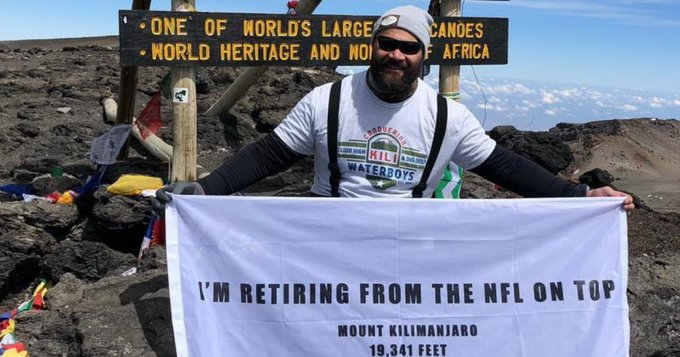 Paul Worrilow
Worrilow tore his ACL on the first play of the first practice of OTA's last season. A hometown kid looking to get his shot on his hometown team's season was over before it even started. There was a reason the Eagles signed him in the first place lastoffseason. Since they didn't get a chance to see him play, they signed him to another one-year deal through the 2019-2020 season.
Ronald Darby
The last one of the free agents the Eagles kept around is Ronald Darby. There was a lot of discussion about whether or not to keep the young corner for another year. He was having a solid year in 2018 before his season got cut short by a torn ACL. He earned immense amounts of praise from defensive coaches all through camp and throughout the season.
Without the injury, chances are Darby would have gotten a big deal this season. However, the injury lowered that stock just a little bit. The Eagles brought Darby back on a one-year deal, that is most likely a 'prove-it' deal.
The new guys that signed this Eagles offseason
Malik Jackson
The first free agency signing of the Eagles offseason was a big one. Figuratively and literally. The Eagles signed defensive tackle Malik Jackson to a 3-year $30M contract. Jackson had a sensational year in 2017 when the Jags went on their AFC championship run.
In 2017, Jackson recorded 8 sacks, 3 passes deflected, and 4 forced fumbles. To compare, in 2017, Fletcher Cox had 5.5 sacks, 2 passes deflected and 1 forced fumble. Another positive about Jackson is his durability. He hasn't missed a game since 2012. Since the Eagles cut Tim Jernigan, this fills an obvious need.
Just to give you a taste of what new #Eagles DL Malik Jackson brings to the table: pic.twitter.com/x3yxtI9Xdf— EROCK (@TheMightyEROCK) March 11, 2019
L.J. Fort
This is a move that most Eagles fans aren't too thrilled about. The Eagles have never valued the linebacker position. Personally, I thought if the Birds couldn't land Kwon Alexander or C.J. Moseley, they should have kept and paid Jordan Hicks. However, that was obviously not the case. The signing of Fort feels very similar to the Corey Nelson signing of last Eagles offseason.
Fort had a career year last season. He had a combined total of 48 tackles, and a sack. He was also a highly regarded special teams guy in Pittsburgh. It will be interesting to see how he does here alongside Nigel Bradham.
Andrew Sendejo
I really like this signing. It's a one year deal for a guy who was a top safety in 2017. He dealt with injuries through 2018, but when the Vikings went on their run to the NFC Championship game he was a terror in the defensive backfield. In 2017, he recorded 80 combined tackles, 7 passes deflected, and 2 interceptions. He threw in 2 more deflected passes and another interception in the playoffs as well. As the third safety behind Jenkins and McLeod, this is a solid pickup.
One of a few familiar faces returning during the Eagles offseason
Vinny Curry
Much of what we thought about Vinny Curry was true. He was a system guy, and it worked in Philly. The Bucs signed Curry to a 3-year deal after he was cut by the Eagles last offseason. However, the style wasn't a fit in Tampa so they released the veteran. The Eagles brought Curry back on a small one-year contract to give them depth on the defensive line.
Eagles offseason trades for 2019
Through the trades, the Eagles only lost one player. Throughout the Eagles offseason, they've traded for a running back, a wide receiver, and a few picks.
DeSean Jackson
We never wanted Jackson to leave. That was Chip Kelly's doing. It stung when he signed with the Redskins. However, when that contract was up, it was between the Tampa Bay Buccaneers and the Eagles to land the receiver. Unfortunately, Jackson chose the Bucs. However, throughout his time there, he wasn't really as productive as he had the potential to be. Much of that was due to the lack of talent in other places, leaving the Bucs typically with a worse record than initially expected.
The Bucs were planning on releasing Jackson, however, they traded the 32-year-old wideout back to his original team, along with a 2020 7th round pick, for a 2019 6th round pick. The Eagles subsequently signed Jackson to an extension through 2021.
Jordan Howard
Eagles fans have been pounding the table for a running back. They had a three-headed monster in 2017 that was almost impossible to stop. Obviously, that helped the team win a Super Bowl. Last year the run-game was borderline nonexistent at times, and you need a solid run game for a balanced offense.
FINALLY, the Eagles pulled the trigger on Jordan Howard. They traded a 2020 draft pick for the 24-year old running back who is still on his rookie contract. Therefore, he will only make about $2M dollars this year.
Trading away Michael Bennett
The Eagles were looking to trade Bennett mainly because of his cap hit and his refusal to take any sort of a pay cut. They traded the defensive lineman and a 2020 7th round pick to the New England Patriots for a 2020 5th round pick. They got a 2020 7th rounder in the DeSean Jackson trade, so that was a no-brainer.
Contract Extensions through this Eagles offseason
The Eagles solidified their offensive line for the next few years during this offseason as well. They signed Jason Kelce through 2021, Isaac Seumalo through 2022, and Jason Peters through 2019. Within this, they also released Stefan Wisniewski.
Contracts reworked and gifted free agency
The last notable moves of the Eagles offseason came with Rodney McLeod and Nick Foles.
McLeod reworked his contract to lower his salary from $7.5M to $4M. The contract is worked so the max amount McLeod can make in 2019 is $5.25M. The contract also includes a void after this year, basically making McLeod a 2020 free agent unless both sides can agree on a contract extension going forward.
With Nick Foles, everyone knows the story by now. At first it looked like the Eagles were going to franchise tag their Super Bowl MVP and try to trade him. However, as a gesture of gratitude to Foles, the Eagles granted the QB his free agency so he could make his own choice for a team going forward. Foles decided on the Jacksonville Jaguars for 4 years, $88M.
All of this action and we still haven't gotten to the draft yet
20 days away from the draft, these are the Eagles moves to date. Darren Sproles said he'd make a decision in May on whether he will return or not. He's most likely waiting to see what the Birds do in the draft before making a call. Chris Long also still hasn't announced his decision either. There's still more to come AND the draft is still approaching.
It will be interesting to see what selections the Eagles make this year. They are looking to regain their title as Super Bowl champs. With a healthy roster full of weapons, anything is possible for this team.
Featured Image: alexus selman via Flickr
Stats via NFL.com